El personal del hostal es maravilloso. Era la primera vez que viajaba sola y en una ciudad que desconocía y me hicieron sentir como en casa y muy segura. La... Ver más reseñas habitación tiene todo lo que puedas necesitar. La ubicación es excepcional. Y la "sala común" es una genialidad, puedes coger todo lo que necesites (café, leche, agua, pastas) sin coste adicional. ¡La limpieza de las habitaciones también es excelente! Nada malo que reseñar, si vuelvo a Madrid los tengo fichados 🙂

Alba Llobet


November 1, 2021

Ubicación perfecta en pleno centro! Todos los servicios cerca. Habitaciones en muy buen estado, muy limpio y trato espectacular! Nos hemos sentido como en casa. Volveremos!

Eric C.


September 25, 2021

Muy bien situado, el personal agradable, tienes una salita siempre disponible con té, café, leche, cola cao, agua y bollería, totalmente gratuito. Las habitaciones limpias, luminosas y cuidadas. Las únicas... Ver más reseñas pegas minúsculas, la insonorización nula de las habitaciones y el baño lo esperábamos un poco más amplio, sobre todo la ducha. Volveremos seguro!!!

Krys


September 23, 2021

¡¡ Ubicación perfecta, habitaciones limpias y trato excelente del personal !! ????

Javier Alústiza Quintana


September 22, 2021

En pleno centro un lugar hiperlimpio y acogedor. Ideal para visitar Madrid. Es pequeño pero suficiente. Y la dueña encantadora y entregada.

María José Abadín


July 28, 2021

Ubicación inmejorable y recepcionista muy atenta. Silencioso. Con sala para tomar desayuno ligero. Repetiremos

Patri Cuenca


June 20, 2021

No puedo estar más agradecido por la atención, amabilidad, limpieza , facilidad y detalles que tuvieron conmigo que hicieron que mi estancia fuera inmejorable. El hostal está en pleno centro... Ver más reseñas pero muy bien aislado, de forma que se duerme muy bien, las cortinas permiten tener la habitación en completa oscuridad para dormir bien. Camas muy cómodas, baño muy limpio y funcional, y habitaciones de tamaño confortable. Mención aparte el personal , de lo más amable y dispuesto a ayudarte en todo que puedas encontrarte. Hostal superrecomendable! No es de extrañar las buenas opiniones que tiene. Sin duda repetiré allí!

Félix Martínez


January 29, 2021
Hostal Royal Cruz is one of the most economical hotels in Madrid considering its quality and location in our city. We have focused on important points to create a comfortable environment for our guests with very attractive prices.
All our rooms and public areas have been designed to enjoy every moment. In each room you will find very comfortable beds, 100% cotton towels & sheets, TV, free WIFI, safety box and air-conditioning/heating system.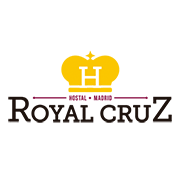 Hostal Royal Cruz was one of the most booked hotels by the french tourism during the first period of 2021 year in Madrid. This was the first sign of the sector's recovery since the SARS Coronavirus 2 pandemic started.
RTVE advertisement, February 2021.